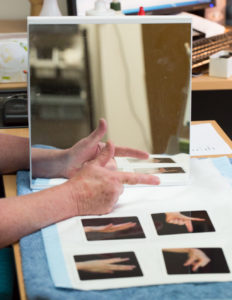 Chronic pain can be debilitating and tiresome for patients. The hand and upper limb are areas of the body that have a higher risk of developing pain conditions following injury or trauma. Pain conditions, such as Chronic Regional Pain Syndrome, can cause excessive and persistent pain in an area of the body that significantly impacts on function.
Pain conditions are often characterised by:
Excessive and persistent pain, even when no structural injury is present
Localised or extreme swelling
Temperature differences in the affected area
Altered autonomic body responses – such as excessive hair growth, increased or reduced sweating, etc.
Poor or no range of motion
Altered nerve and tactile responses – causing some textures to feel different, uncomfortable or painful
Therapists at Geelong Hand Therapy have additional training in Chronic Pain management, and base their therapy techniques off the latest evidence around the treatment of pain conditions. They use a variety of therapy strategies to combat the different factors that contribute to chronic pain.
We're here to help!
For appointments, enquiries or just to find out more about Geelong Hand Therapy, feel free to contact us any time.
3 Sydney Ave
Geelong, Vic 3220
Appointments
Geelong
Mon to Fri 8:30am to 5pm
Epworth Geelong
Wed 12pm to 4pm
Drysdale Clinic
Mon 8.30am to 2pm
Lara Physio
Tues 8.30am to 12.30pm
North Geelong
Monday 1pm to 5pm
Thursday 8.30am to 3.30pm