What We Do
Geelong Hand Therapy offers comprehensive assessment and treatment of injuries and conditions of the upper limb, from hand to shoulder, as a result of: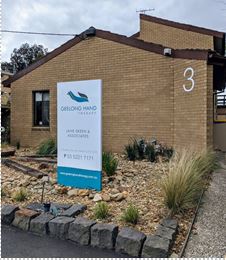 Cumulative trauma/repetitive strain
Workplace injuries
Sports related injuries
Congenital conditions
Motor vehicle accidents
Surgical procedures
Conditions associated with the aging process.
Treatment is provided by occupational therapists and physiotherapists who have had extra training in the speciality area of hand therapy and upper limb rehabilitation, and who have a strong commitment to ongoing education and training. Therapists at Geelong Hand Therapy work closely with referring surgeons and GPs to help every patient achieve a full recovery and maximum function.
Our Mission Statement:
Our Mission is to provide the highest standard of patient care incorporating a holistic and evidenced based approach toward diagnosis and management of hand and upper limb injuries and conditions. This practice is committed to promoting overall health and wellbeing, and to maximising functional outcomes for all patients.  We do not discriminate in the provision of excellent care and aim to treat all patients with due respect. 
Vision Statement:
Our aim is to be known for: 
high quality outcomes

 

exceptional customer service

 

be recognised as leaders in the provision of excellent hand therapy in the Barwon Southwest region

 
Values:
Innovation

 

We are guided by evidence-based practice and encourage innovation in all areas of service delivery. 

 
Integrity 

 

We are committed to maintaining a high standard of moral values including honesty, accountability, responsibility, and loyalty

 
Equality 

We do not discriminate in the provision of excellent care and aim to treat all patients and staff with due respect

 
Compassion

 

We strive to be caring and empathetic toward all members of the community who come through our door

 
Excellence

 

We aim to provide comprehensive, current and patient focused care at an advanced standard to ensure best outcomes for all
We're here to help!
For appointments, enquiries or just to find out more about Geelong Hand Therapy, feel free to contact us any time.
3 Sydney Ave
Geelong, Vic 3220
Appointments
Geelong
Mon to Fri 8:30am to 5pm
Epworth Geelong
Wed 12pm to 4pm
Drysdale Clinic
Mon 8.30am to 2pm
Lara Physio
Tues 8.30am to 12.30pm
North Geelong
Monday 1pm to 5pm
Thursday 8.30am to 3.30pm