Custom made compression garments
Compression garments are often required following burns, skin grafting and / or soft tissue reconstruction. They are used to help modify and flatten scar tissue, and control oedema.
Therapists at Geelong Hand Therapy are experienced in measuring and fitting custom made compression garments. We work closely with local and metro suppliers to find the right compression garment for each patient's individual needs. Geelong Hand Therapy offers both off-the-shelf compression garments and custom-made compression garments.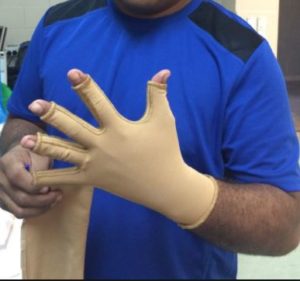 We're here to help!
For appointments, enquiries or just to find out more about Geelong Hand Therapy, feel free to contact us any time.
3 Sydney Ave
Geelong, Vic 3220
Appointments
Geelong
Mon to Fri 8:30am to 5pm
Drysdale Clinic
Currently not attending this location
Lara Physio
Currently not attending this location
North Geelong
Monday 1pm to 5pm